USAID DELIVER Project
Contract number: GPO-I-00-06-00007-00TO 4 PO D1826
John Snow International/USAID, Pakistan
Over 10 years, the USAID | DELIVER PROJECT bought and shipped more than 8.5 billion health products, supplying a large portion of developing countries' contraceptive and malaria prevention and treatment commodity needs. By providing vital medicines and health products, and strengthening the systems that get the supplies into the hands of clients and patients, we contributed to better health outcomes for millions of people. ICS as a subcontractor to John Snow in Pakistan was awarded several task orders to source, deliver, install, and to distribute goods to over 420 healthcare facilities country wide. Pharma Cold/Freezer Rooms were also provided. The in-country support provided by ICS included warehousing, systems configuration, installation and distribution.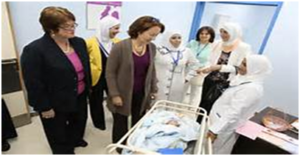 Jordan Health System Strengthening Project HHS II
Contract Number: HSS II TASC3 2010-009
USAID/Abt Associated- Jordan
The Health Systems Strengthening II Bridge project (HSS II Bridge) was a USAID initiative in Jordan led by Abt Associates to improve the quality of and access to safe motherhood and family planning health care services for Jordanian families. HSS II Bridge was a successor to HSS II, a five-year project that began in 2009. The project collaborated closely with the Jordan Ministry of Health (MOH), the Royal Medical Services (RMS) and the Higher Population Council (HPC) to develop a stronger health system – one that supports and achieves improvements in health outcomes by stimulating structural, administrative, and behavioral change. ICS received several contracts from Abt Associates to source, supply, install, commission and train several healthcare equipment including X-Ray machines, Incubators, warmers, hospital beds, surgery room equipment and other related systems.
USAID Chemonics TASC III Health care contract
Contract Number: GHS-I-00-07-00004-00
US Agency for International Development
Under the PEPFAR, the Global Health Program initiated by President George W. Bush, Chemonics International with its Consortium was awarded the TASC3 contract valued over $1 Billion ICS as a partner in the consortium was in charge of Local Capacity Building in procurement and distribution of drugs and contraceptive, Inventory Management, Warehouse Information Systems, and Drug Distribution Systems
ICS was a consortium partner with Chemonics International performing under the TASC III Contract with USAID.
Jordan Applied Epidemiology Project
Contracts Number: 200199900059 and 200-2003-00545
U.S. Centers for Disease Control and Prevention (CDC)
In its continuous efforts to contain contagious diseases in the Middle East area, the U.S. Centers for Disease Control and Prevention (CDC) awarded ICS Technologies the contract to provide Technical Assistance and Logistical Services under the Jordan Applied Epidemiology Project (JAEP). ICS performed all services related to disease containment, monitoring of Outbreaks in Jordan and surrounding countries together with full training of the Jordanian Ministry of Health technician on Epidemiology Services for Jordan and surrounding countries. The contract valued with extensions over $2 Million and lasted for 9 years. ICS' tasks are related to full support of the Centers for Disease Control and Prevention (CDC) epidemiological activity in Jordan, including design, organizational and logistical support
Organizational partners were STOP, TEAMStop, TEPHINET, JUST, Nemro 3 lab, UNICEF, PHCI, JSP, MOH and PHCI
USAID DELIVER Program
Contract Number :Task 5 PUP 985-989
John Snow International, El Salvador
JSI awarded ICS the procurement and delivery of hospital equipment ( Baby Incubators) to be delivered to six hospitals in El Salvador. Equipment were shipped from the manufacturer to ICS warehouse in Baltimore and then shipped to El Salvador to a staging warehouse for further inspection prior to delivery to six hospitals in El Salvador. Equipment were then installed in the respective hospitals
Primary Healthcare Initiative (PHCI),
Contract Number: PHCI-Jordan-07-01-4; TO1616
USAID, Abt Associates Ministry of Health, Jordan
ICS serves as one of the main contractors for supply, installation, commissioning of Medical and Laboratory Equipment and furniture, including ECG machines, spectrophotometers, hospital and laboratory furniture, etc., and training of end-user in equipment application.
Healthy Mother Healthy Child Project
Contract Number 04-01-205/202
USAID/JSI Ministry of Health, Egypt
Thishealthcare project managed by John Snow Internationalincreased the capacities and effectiveness ofhouseholds, especially mothers, asfirst line health care providers for themselves and their children, together with public and private healthcare providers,physicians (including all relevant specialists), nurses, nurse midwives, pharmacists, and dayas; and provided communities to assess their needs and mobilize resources for both long-term planning and short-termemergencies. ICS was awarded several contracts for the Supply, installation, commissioning of Medical Equipment, including Neonatal Incubator (Normal Care, Intensive Care and Portable from Hill Rom Int'l and Premicare, oxygen and Nitrogen manifolds,hospital beds, monitors, oxygen analyzers, computers, and ultrasound systemstogether with providing training to the end-user in equipment application and maintenance.
National Agricultural Research Project/NARP
Contract Number 263-0152.01
USAID/ Ministry of Agriculture, Egypt
ICS role was to design, supply, install, and commission Laboratory Equipment, Food Service equipment, Computers and LAN Systems, and training of end-user in equipment application.